From 12 News Meteorologist Tony Petrarca and T.J. Del Santo, here is your updated 7-Day Forecast:
***A WIND ADVISORY has been issued for Wednesday at 1PM until Thursday at 1AM. South-southwest winds will increase by afternoon and gust to 45-55mph. "Isolated" wind damage and power outages are possible. Secure any holiday decorations too***
TONIGHT: Increasing clouds, dry. A cool start with temperatures in the mid 30s. Temperatures will gradually rise into the 40s by dawn. ESE winds 5 mph
WEDNESDAY: A dry and cloudy start, then a windswept rain for the afternoon and evening. Unseasonably mild, highs around 60°. Strong south-southwest winds late afternoon and evening, gusting up to 45-55 mph. Slow travel and isolated power outages are possible during the evening commute
***Watching for the potential for strong wind gusts 45-55mph early Wednesday evening/night***
WEDNESDAY NIGHT: Heavy rain and strong wind gusts early, then clearing by 10pm. Temperatures in the 50s early, then falling rapidly to the 40s and 30s. Winds SSW shifting northwest 15-25 mph with gusts to 45 mph
THURSDAY: Windy and much colder. Mostly sunny. Highs in the mid 40s, wind chills in the 30s
FRIDAY: Bright and chilly…. low to mid 40s.
Ocean, Bay & Beach // A look at the conditions by the coast »
SATURDAY: Scattered showers… milder and very windy. Highs mid to upper 50s
SUNDAY: Clearing, brisk and turning cooler… upper 40s
MONDAY: Dry and mild… near 50
Pinpoint Weather 12: 7 Day Outlook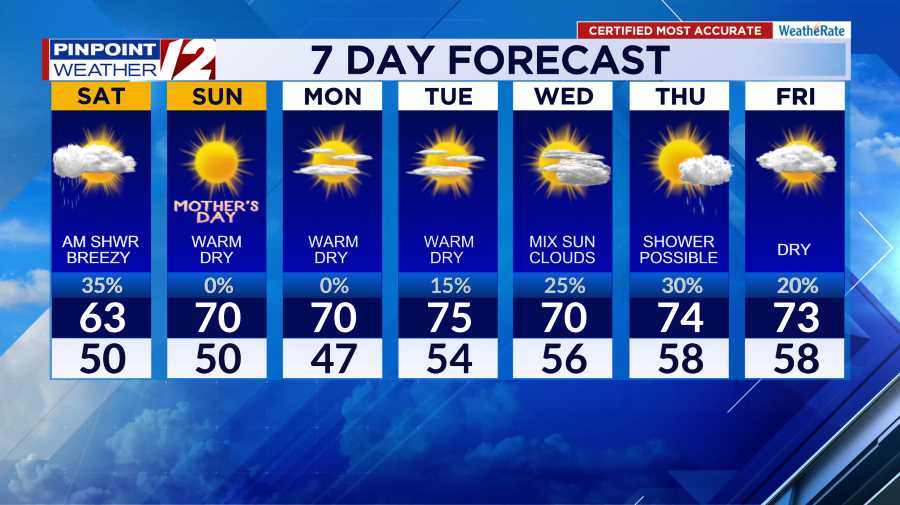 Pinpoint Weather 12: Live Radar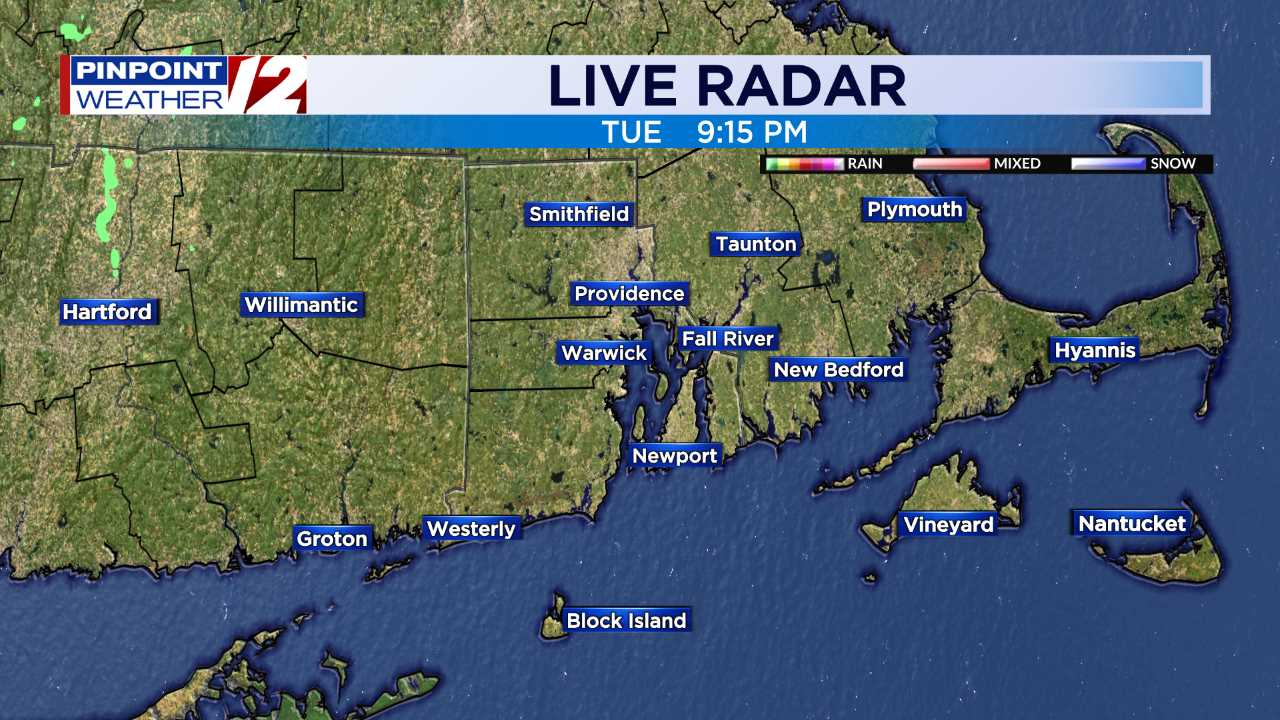 INTERACTIVE RADAR: Live Pinpoint Weather 12 Radar »
Pinpoint Weather 12: Forecast At-a-Glance 1
Pinpoint Weather 12: Forecast At-a-Glance 2
Pinpoint Weather 12: Weekend Outlook
---
---
Sign up for Pinpoint Weather 12 & School Closing Alerts
ReportIt: See weather, snap it and ReportIt! Please include your location, name, time & date.
Connect & Share: Tweet @wpri12 or post to WPRI 12 on Facebook and follow @PinpointWxTeam on Twitter and @WPRI12 on Instagram
Download the Pinpoint Weather App & 12 News App — News & Pinpoint Weather Coverage You Can Count On »
MOST ACCURATE FORECAST: WeatheRate, an independent research company, names the Pinpoint Weather Team "Most Accurate"