AIR QUALITY ALERT: Smoke from wildfires in Quebec and Ontario, Canada will continue into Wednesday, becoming a bit thicker by late afternoon, You may still be able to smell this smoke at times. Those with respiratory ailments, especially, should stay indoors with the windows closed.
From 12 News Chief Meteorologist Tony Petrarca here is your updated 7 Day Forecast:
Solar Report: Daily Solar Energy Forecast »
PRE-DAWN WEDNESDAY (Now Thru Friday): Partly cloudy with patchy areas of smoke. Temperatures in the lower 50s by daybreak
WEDNESDAY: Poor air quality alert continues. Mainly dry with a blend of hazy filtered sunshine and clouds. There could be an isolated afternoon shower, but most of the day will be dry. Highs around 70. Winds from the northwest 5-10mph.
WED. NIGHT: Mostly cloudy early, then partly cloudy overnight, dry. Lows near 50°
THURSDAY: Partly to mostly cloudy skies. Chance for an isolated afternoon or evening shower. Highs in the upper 60s
Ocean, Bay & Beach // A look at the conditions by the coast »
FRIDAY: Partly to mostly cloudy….a better chance for scattered showers. Highs around 68.
FRIDAY NIGHT: Scattered showers during the early evening hours. Lows in the 50s
SATURDAY: Partly sunny with an isolated passing shower…most of the day looks dry. Highs around 70
SATURDAY NIGHT: Partly cloudy, dry. 60s in the evening, 50s late night
SUNDAY: Mostly sunny, dry warmer…upper 70s.
Pinpoint Weather 12: 7 Day Outlook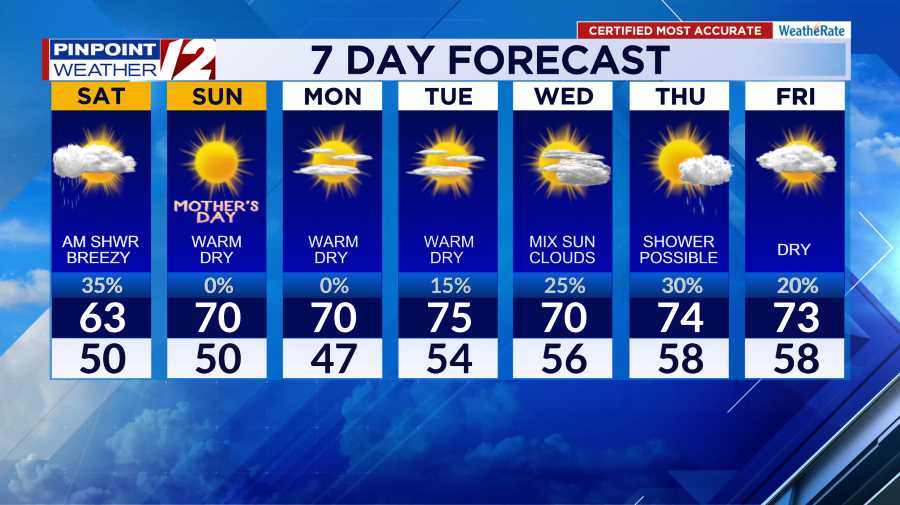 Pinpoint Weather 12: Live Radar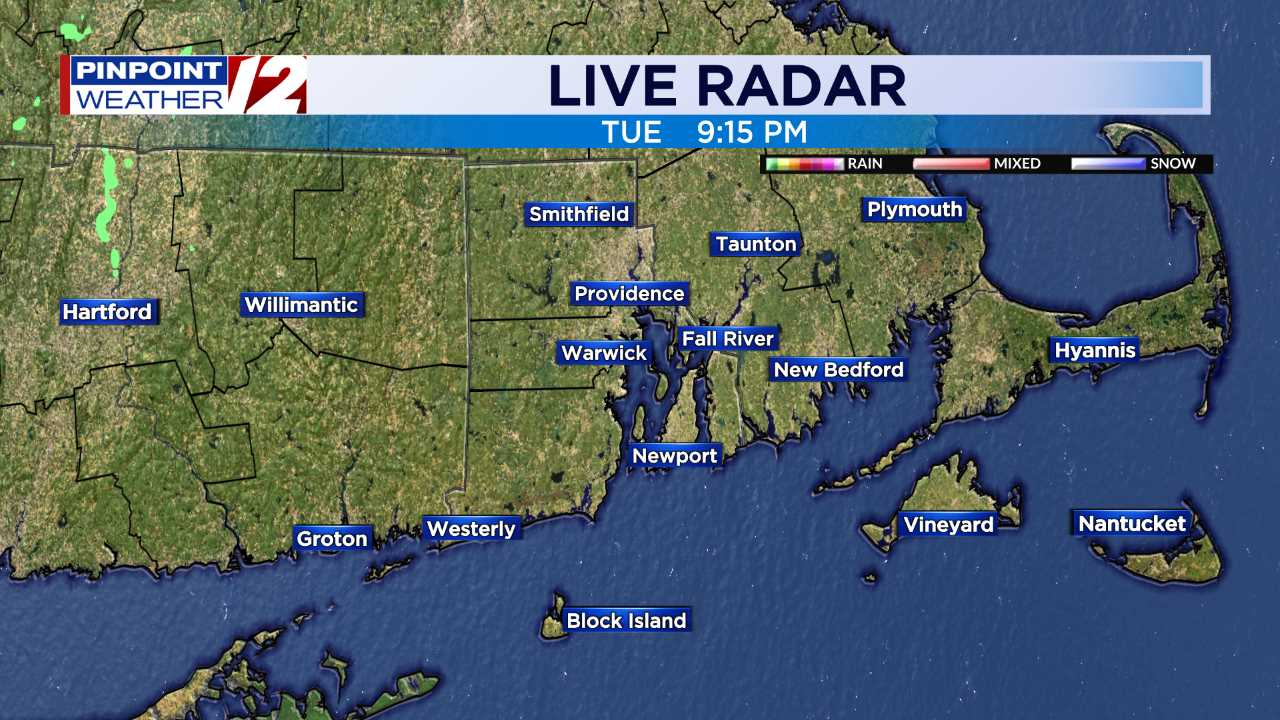 INTERACTIVE RADAR: Live Pinpoint Weather 12 Radar »
Pinpoint Weather 12: Forecast At-a-Glance 1
Pinpoint Weather 12: Forecast At-a-Glance 2
Pinpoint Weather 12: Weekend Outlook
---
View WPRI.com's Narragansett Beach Cam and other livestreaming real-time remote views from around our region.
---
Sign up for Pinpoint Weather 12 & School Closing Alerts
ReportIt: See weather, snap it and ReportIt! Please include your location, name, time & date.
Connect & Share: Tweet @wpri12 or post to WPRI 12 on Facebook and follow @PinpointWxTeam on Twitter and @WPRI12 on Instagram
Download the Pinpoint Weather App & 12 News App — News & Pinpoint Weather Coverage You Can Count On »
MOST ACCURATE FORECAST: WeatheRate, an independent research company, names the Pinpoint Weather Team "Most Accurate"