From 12 News Meteorologist Tony Petrarca and Michelle Muscatello, here is your updated 7 Day Forecast:
REST OF AFTERNOON: Drier as showers and drizzle end, just a few spotty sprinkles…. some partial clearing too. It'll be much cooler with highs in the low to mid 40s. Winds from the northwest 5-10mph.
TONIGHT: Slow clearing, drier…lows around 32.
WEDNESDAY: Mostly sunny, dry, and seasonable… low 50s.
WEDNESDAY NIGHT: Clear start then increasing clouds. A brief period of rain/snow between roughly 12am to 2am as a strong cold front sweeps through. Visibility during that time may briefly decrease to 1/4 mile or less.
THURSDAY: Dry, blustery, and chilly.. Highs in the low 40s.
FRIDAY: Increasing clouds with rain developing late day or evening and continuing Friday night. Highs around 52
FRIDAY NIGHT: Breezy and milder with scattered showers. Temperatures in the 40s, rising to 50 by dawn Saturday
SATURDAY: Cloudy with rain, milder and gusty… upper 50s to low 60s
SUNDAY: Partly sunny. Drier, cooler… near 50
MONDAY: Pleasant, dry… mid 50s
Pinpoint Weather 12: 7 Day Outlook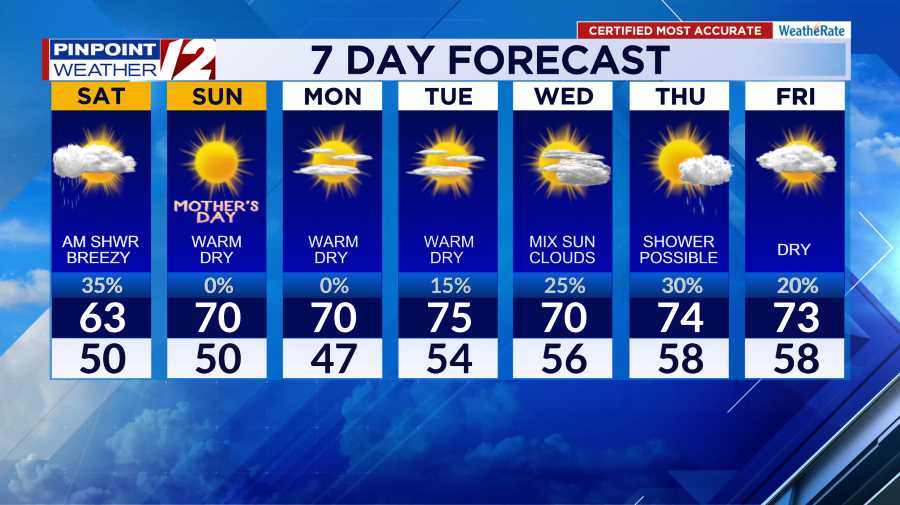 Pinpoint Weather 12: Live Radar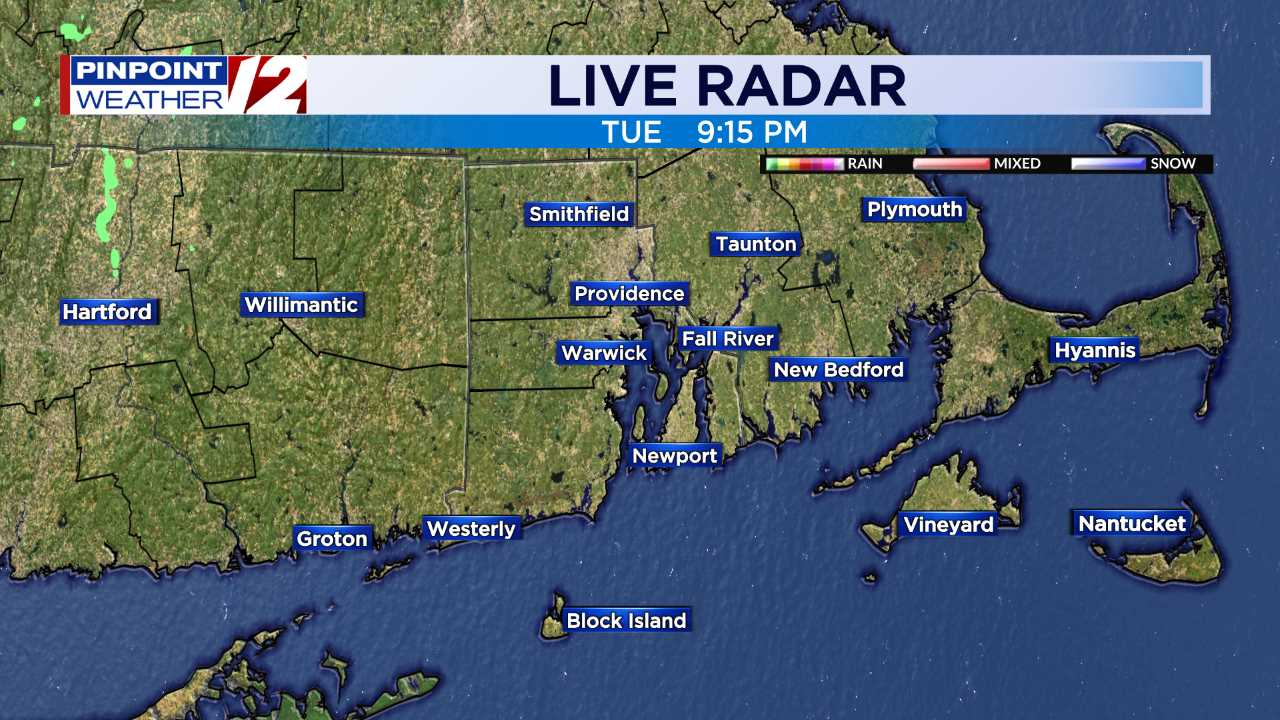 INTERACTIVE RADAR: Live Pinpoint Weather 12 Radar »
Pinpoint Weather 12: Forecast At-a-Glance 1
Pinpoint Weather 12: Forecast At-a-Glance 2
Pinpoint Weather 12: Weekend Outlook
---
Ocean, Bay & Beach // A look at the conditions by the coast »
---
Sign up for Pinpoint Weather 12 & School Closing Alerts
ReportIt: See weather, snap it and ReportIt! Please include your location, name, time & date.
Connect & Share: Tweet @wpri12 or post to WPRI 12 on Facebook and follow @PinpointWxTeam on Twitter and @WPRI12 on Instagram
Download the Pinpoint Weather App & 12 News App — News & Pinpoint Weather Coverage You Can Count On »
MOST ACCURATE FORECAST: WeatheRate, an independent research company, names the Pinpoint Weather Team "Most Accurate"