From 12 News Meteorologist Michelle Muscatello, here is your updated 7 Day Forecast:
TODAY: Colder and brisk with wet snow and rain showers during the morning. Roads stay wet. Turning partly to mostly sunny for the afternoon. Highs in the mid to upper 30s. Northwest winds 5-15mph
TONIGHT: Clear skies in the evening and then partly to mostly cloudy overnight. A few snow showers and flurries are possible after midnight. Little to no accumulation expected. Much colder with lows in the upper 'teens to low 20s.
WEDNESDAY: A few slippery spots possible at dawn with light snow showers and flurries. Cold and dry most of the day with mainly sunny skies. Highs 30-35.
THURSDAY: Mostly sunny, seasonable and dry with highs in the upper 30s.
****BITTER COLD AIR ARRIVES FRIDAY PM AND INTO SATURDAY****
FRIDAY: Much colder, very windy with morning temperatures in the 20s but falling into the 'teens and single digits in the afternoon and evening. Windy, too, with north winds 15-20mph and gusts 35-40 mph at times.
FRIDAY NIGHT: Strong winds and frigid… lows 0 to -10. Dangerously cold wind chills of -15 to -25 are expected. North wind 15-20 mph, gusts to 35-40 mph at times
SATURDAY: Sunny, frigid. Morning lows of zero to near -10°. Afternoon high temperatures only 15°. Dangerous wind chills -15 to -25 in the morning. North wind 15-20 mph, gusts to 30-35 mph, then gradually diminishing by afternoon and evening
SUNDAY: Cold start, and then much milder in the afternoon with increasing clouds. Highs in the low 40s. A chance of a few rain showers late day and at night.
MONDAY: Mild and dry… Highs in the 40s
Pinpoint Weather 12: 7 Day Outlook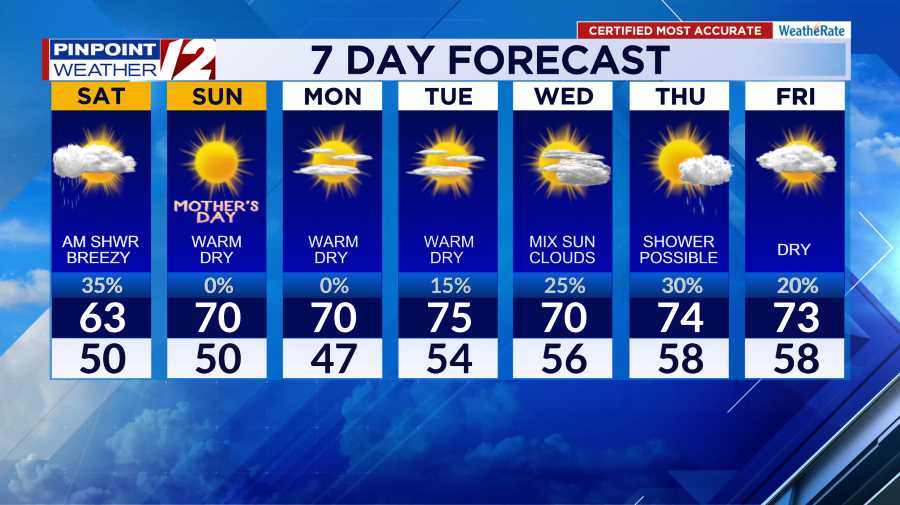 Pinpoint Weather 12: Live Radar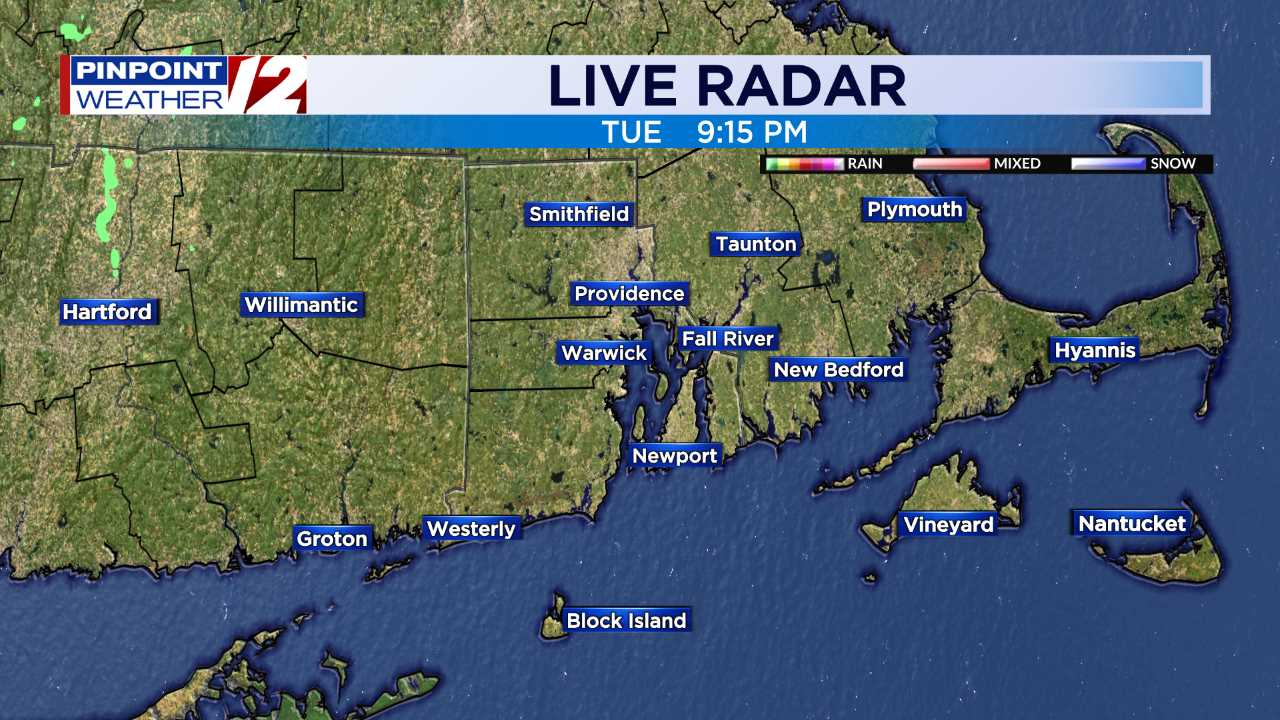 INTERACTIVE RADAR: Live Pinpoint Weather 12 Radar »
Pinpoint Weather 12: Forecast At-a-Glance 1
Pinpoint Weather 12: Forecast At-a-Glance 2
Pinpoint Weather 12: Weekend Outlook
---
Ocean, Bay & Beach // A look at the conditions by the coast »
---
Sign up for Pinpoint Weather 12 & School Closing Alerts
ReportIt: See weather, snap it and ReportIt! Please include your location, name, time & date.
Connect & Share: Tweet @wpri12 or post to WPRI 12 on Facebook and follow @PinpointWxTeam on Twitter and @WPRI12 on Instagram
Download the Pinpoint Weather App & 12 News App — News & Pinpoint Weather Coverage You Can Count On »
MOST ACCURATE FORECAST: WeatheRate, an independent research company, names the Pinpoint Weather Team "Most Accurate"