PROVIDENCE, R.I. (WPRI) — The Fourth of July is always a popular time to travel, but AAA believes this will be a record-setting year.
AAA's projection shows more than 50 million Americans will travel 50 miles or more from home, an increase of two million from last year.
Whether you're traveling, heading to the beach, or attending a parade or fireworks display, this guide has everything you need to plan ahead.
Jump to a section: Travel Tips | Weather Forecast | Fireworks, Parades & Other Events | Beach Information
---
Travel
On July 4, 2022, the national average for gas prices was $4.80 per gallon, according to AAA. Currently, the average is below $3.60 per gallon, which is a big reason why AAA predicts 43 million people will hit the road this holiday weekend.
Here are the best and worst times to travel by car, according to AAA:
| Date | Best Time | Worst Time |
| --- | --- | --- |
| Saturday, July 1 | Before 12 p.m. | 1 p.m. |
| Sunday, July 2 | Minimal traffic expected | Minimal traffic expected |
| Monday, July 3 | Minimal traffic expected | Minimal traffic expected |
| Tuesday, July 4 | Before 11 a.m., After 6 p.m. | 12 p.m. – 3 p.m. |
| Wednesday, July 5 | Before 2 p.m. | 3 p.m. – 6 p.m. |
AAA expects that more than 4 million Americans will fly to their Fourth of July destination, which would also be a new record. Given the recent issues with delays and cancellations, be sure to check our Flight Tracker for updates on local arrivals and departures.
The Transportation Security Administration (TSA) also issued a reminder to flyers about what they can and cannot bring onto flights. Some items can be packed in a carry-on bag, while others must be in a checked bag or simply left at home. Visit the TSA's website for a full list.
The remaining travelers will either take a cruise, train or bus.
---
Weather Forecast
After a stormy Fourth, Wednesday is looking like a better day for travel and outdoor activities, with increasing sunshine and above-average temperatures. An isolated shower or thunderstorm is possible, but any rain will be brief and localized.
Some fireworks displays were rescheduled due to the rain on Monday and Tuesday.
Tune in to 12 News This Morning for a live, updated forecast.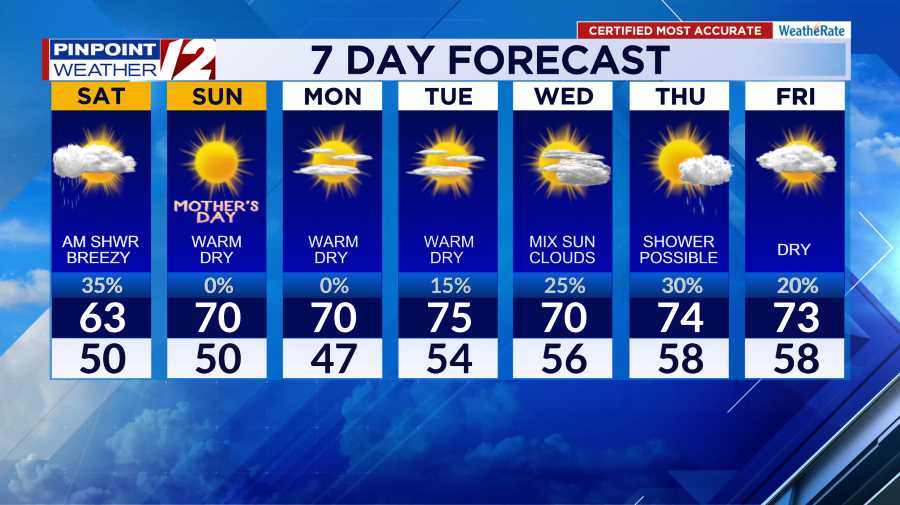 Jump to a section: Travel Tips | Weather Forecast | Fireworks, Parades & Other Events | Beach Information
---
Local Events
Independence Day festivities are being held across Rhode Island and Southeastern Massachusetts, including parades and fireworks displays.
In Bristol, the county's oldest continuous Fourth of July celebration capped off with the big parade on Tuesday. Thousands of people were in attendance.
A number of cities and towns including Newport, Warwick, East Providence and North Kingstown will set off their fireworks Wednesday night after they were rescheduled due to rain. Other displays will be held later in the week.
One of those events was pushed back almost two weeks. On July 16, McCoy Stadium in Pawtucket will open up for one "final inning." There will be live music, food trucks and family-friendly activities. Later on, 3,000 attendees will be able to remain on the field to watch the fireworks there one last time.
See a full list of local fireworks displays and other events here.
---
Beach Information
While most beaches in Rhode Island are fully open and staffed, the state has recommended that a few close to swimming due to high bacteria levels in the water, while others won't have lifeguards on duty.
As of Wednesday morning, swimming is not recommended at these beaches: Conimicut, City Park and Kent County YMCA in Warwick and Ginny B Campground in Foster.
An updated list of closures can be found on the R.I. Department of Health's website.
These beaches won't have lifeguards, according to the DEM: Fort Adams State Park in Newport, East Beach and Burlingame Picnic Area in Charlestown, and George Washington Campground and Pulaski State Park in Chepachet.
New this year, Rhode Island is offering free admission to all state parks and beaches for Gold Star families.
With thousands of people expected to flock to the shore, the DEM recommends buying your parking pass online to avoid a long line at the entrance. The DEM warned, however, to buy passes as early as possible since they can take up to 24 hours to take effect.
Ocean, Bay & Beach // A look at the conditions by the coast »