Historically speaking, it's a tough road for 0–2 teams to make the playoffs.
As for reaching the Super Bowl? Only the 1993 Cowboys and 2007 Giants have won it all after dropping their first two games. And it should be noted Dallas was without Hall of Fame running back Emmitt Smith, who held out for two contests before returning, and helping Dallas to a 12–4 record.
This year, eight teams have started with two consecutive defeats. How many of them have hope of getting back in the race? We rank them from least to most likely.
8. Chicago Bears
The Bears earned the No. 1 pick last season, and they're looking like a strong bet to repeat the feat in 2023.
Chicago has been noncompetitive against the Packers and Buccaneers, and now gets to play the Chiefs at Arrowhead in Week 3. The Bears were hoping for a big year from quarterback Justin Fields, but he has struggled with three interceptions and been sacked 10 times.
Even in the weaker NFC, it would represent a borderline miracle if the Bears get into playoff contention at any point.
7. Houston Texans
Even though the Texans have won only 10 games over their previous three seasons, this is a tough start.
With new coach DeMeco Ryans and first-round quarterback C.J. Stroud, there was belief Houston would be improved. Instead, the Ravens and Colts have beaten them by a combined score of 56–26. The offense is struggling to protect Stroud as well, with the rookie being sacked six times against Indianapolis.
In the AFC, it's an almost impossible road to the playoffs for Houston, which is in the beginning stages of a rebuild. The good news? Stroud has looked solid, throwing for 384 yards on 8.2 yards per attempt with two touchdowns on Sunday.
6. Carolina Panthers
There's no getting around how ugly it has been for Carolina's offense.
Before a garbage-time drive against the Saints, the Panthers couldn't muster 200 total yards in Monday night's defeat. For rookie quarterback Bryce Young, it was the second consecutive game he was held under 5.0 yards per attempt, while the offensive line has already allowed six sacks.
If Young doesn't get better protection, Carolina has no real chance of getting back in the NFC South race. For right now, the Panthers must win with a running game of Miles Sanders and a terrific defensive showing on a weekly basis. In today's NFL, that's a big chore.
5. Denver Broncos
Unless Russell Wilson finds a time machine and turns the clock back by four years, it's going to be very difficult for the Broncos to find their way back.
Denver has already lost two home games to the Commanders and Raiders, with the defense failing to hold up in key spots. While Wilson has been a bit more competent under new coach Sean Payton, he's still taking far too many sacks. After Denver allowed a league-worst 63 last year, Wilson has already been brought down eight times, putting him on a pace for … 68.
At 0–2, the Broncos now face a tough stretch, which includes the Dolphins, the Chiefs twice and the Bills over the next eight games.
4. New England Patriots
While the Patriots are 0-2, they have reason to feel things will turn around.
New England did lose a pair of home games, but both came against playoff-caliber teams in the Eagles and Dolphins. Week 3 brings the Zach Wilson-led Jets, and after that, there's a tough trip to Dallas before winnable tilts with the Saints and Raiders. It's not hard to see 3–3.
The big problem for Bill Belichick's club is the lack of offensive punch. Coordinator Bill O'Brien must figure out how to create chunk plays, whether it's with third-year quarterback Mac Jones, or his running game led by Rhamondre Stevenson.
3. Los Angeles Chargers
Many pundits would probably rank the Chargers second, but at some point, they need to show something.
Los Angeles gave up 36 points and 536 yards against the Dolphins in Week 1, and then followed that up by forcing only four incompletions from Ryan Tannehill in a 27–24 overtime loss to the Titans.
Offensively, the addition of coordinator Kellen Moore was supposed to unlock quarterback Justin Herbert and Los Angeles' deep passing game, but so far that hasn't happened. Herbert has thrown for 534 yards on 74 attempts (7.2 yards per attempt).
Ultimately, the defense has been a disaster and the offense isn't explosive. In the AFC, that spells doom.
2. Minnesota Vikings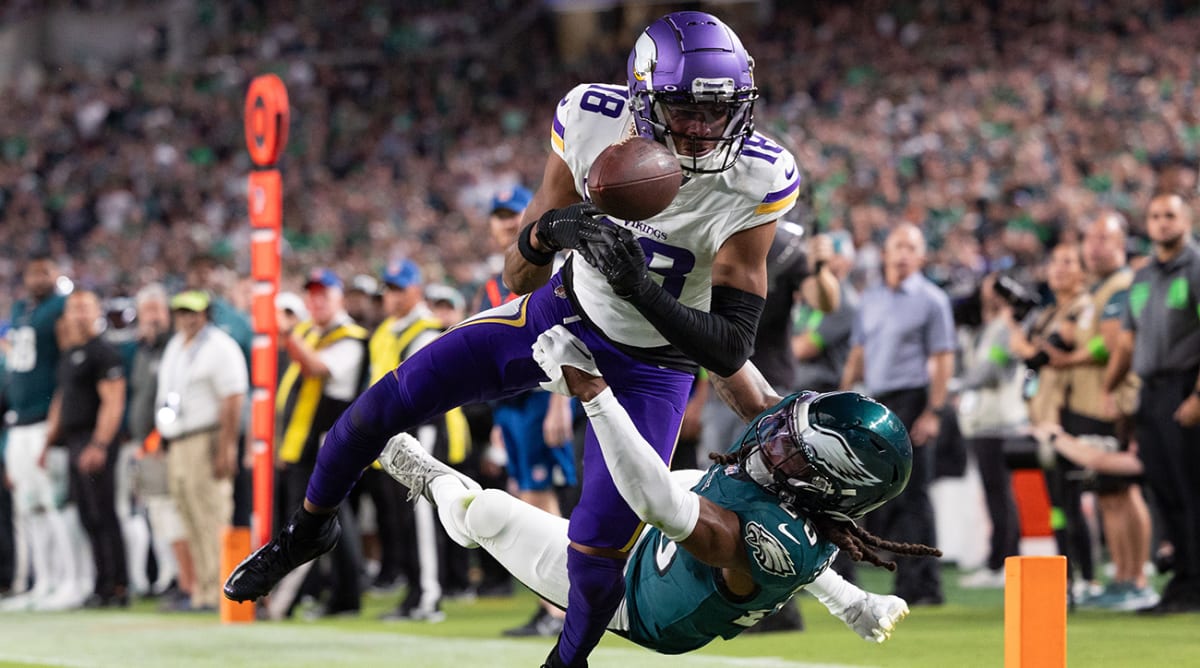 Almost everybody expected regression from the Vikings, who had a negative point differential in 2022 and yet managed a 13–4 mark.
Still, starting the season 0–2, including a home loss to the Buccaneers in Week 1, wasn't expected. Now, the Vikings must figure out how to diversify their offense after running just 26 times over their first two games while throwing 88 passes.
That said, they might want to wait until after playing the Chargers in Week 3. L.A. has allowed the most passing yards of any team (666) through two weeks. It could be a bonanza for Kirk Cousins, Justin Jefferson and Co. in this must-win game.
1. Cincinnati Bengals
We've seen this movie before. The Bengals began last season 0–2 with losses to Mitchell Trubisky and Cooper Rush. Cincinnati then went on to win the AFC North by a comfortable margin before advancing to its second consecutive conference title game.
Right now, the biggest concern is the calf of quarterback Joe Burrow, who told reporters after the Bengals' 27–24 loss to the Ravens that his calf was tweaked in the second half and needs monitoring going forward.
Provided Burrow gets healthy, Cincinnati will figure things out. However, it should be noted the run defense has been a mess, allowing nearly 400 rushing yards on 4.9 yards per carry.